---
Andy Radford , will host The Edge from our UK Studio's next week, July 7th. His guest will be Stuart Harrison.
Andy is The Edge technical director.
Watch Edge Interview Trailer
Listen to Interview
About the guest host for this Saturday
---
June 30th, 2007
Ed Gungor
There is More to The Secret
You've read Rhonda Byrne's best-selling work, The Secret. The Question : Is There Is More to The Secret?
Ed Gungor is a rare wonder in the American church—a veteran pastor with a strong aversion to "religion," who often conducts well-informed discussions on philosophy and church history but can't go more than two sentences without laughing at his own jokes. He became a follower of Christ as a teenager in the early 1970's and has been deeply involved in the spiritual formation of others for over thirty-five years. Ed has a passion for authentic transformation, a phenomenon he feels is all too rare in today's church. "Christianity is like a cough," he muses. "Standing at a safe distance and imitating someone else's cough is nothing like getting close and catching it yourself."
As a self-described "church futurist," he is constantly aware of the changing needs of the next generation of Christians, the ones who haven't yet experienced spiritual formation. To effectively communicate the gospel to this group, he believes our notion of "destiny" in the American church needs to be re-imagined. Ed longs to see believers willing to abandon their Christianized versions of the self-important American Dream, embracing instead the miraculous, surprising and contagious Christianity that comes when they see themselves as the servants of God who find their home with Messiah and his people as they participate in the mission of God (mission dei).
Ed is known for his down-to-earth, engaging communication style. With transparency and his own unique brand of wry humor, he cuts through the usual "church-speak," gleefully slaughtering any sacred cows that distort the true message of Christ. He is the author of several books, including Religiously Transmitted Diseases: Finding a Cure When Faith Doesn't Feel Right. He is currently working on his fifth book, The Vow: An Ancient Path of Spiritual Formation That Still Transforms Today, which is scheduled for release in early 2008 (Thomas Nelson, Inc.). His current release is entitled There Is More to the Secret.
For more information, visit http://edgungor.com/
---
Daniel talked with Andy from our UK Studio's for a few minutes before Steve Elswick. Select June 23rd from the Select Entire Show drop down box under the Player.
June 23rd, 2007
Steve Elswick
ExtraOrdinary Science and Tesla Technology
---
June 16th, 2007
Bill Dankenbring
Angels, Women, Sex, Giants, UFOs
-what on earth is going on?
Bill Dankenbring is a writer of magazine articles and books, publisher of Prophecy Flash magazine, and speaker on "Prophecy Flash" radio, William F. Dankenbring began Triumph Prophetic Ministries in January, 1987. He formed a company called Triumph Publishing. He first published The Keys to Radiant Health, which was later published in a mass market paperback edition. Then he wrote and finished a second book, book, entitled The First Genesis: A New Case for Creation. This was later republished with a slightly different title, First Genesis – the Creation-Evolution Controversy. Following on the heels of that, he wrote and published The Children's Creation Book, with many full-color pictures of some of the mysterious creatures in Nature.
Then he published The Last Days, a book on Bible prophecies for the end times, followed by Beyond Star Wars, a book about catastrophism during human history – Noah's Flood, the Babel cataclysm, the Exodus catastrophe, Hezekiah's sun dial episode, and the cause of these and other disasters – Satan the devil's fall from heaven and subsequent rebellion against the rulership of God.. This also was put out in a mass market paperback edition by Tyndale House publishers. During this time he began publishing Prophecy Flash magazine, a bi-monthly 88 page in-depth look at the cause of world problems, ancient history, and the solution to world problems, from a Biblical point of view.
At this time he wrote and published America and Great Britain – Our Identity Revealed; Ephraim and Manasseh in the End of Days, a 450 page 8 ½ by 11 inch book focusing on the ancient roots of the Anglo-Saxon peoples, and their incredible role in Biblical times and in the fast-approaching times of the apocalypse.
---
June 9th, 2007
Walter Bosley
Extraordinary Phenomena
Walter Bosley is a world traveling author and explorer of extraordinary phenomena. He has served as a counterintelligence specialist during the final years of the Cold War for the FBI and served as a Special Agent with the Air Force Office of Special Investigations running counterespionage operations. For the past seven years, Walter has been a personal security and anti-terrorism consultant for corporate and private clients around the world. In addition, he founded The Lost Continent Library Publishing Company, a small press that specializes in classic adventure fiction, including his own works under the pseudonym 'E.A.Guest.' Walter has been a guest on Coast to Coast Live with Ian Punnett, The Kevin Smith Show and as often co-host of Radio Mysterioso with Greg Bishop, where he discussed in greater detail his upcoming book, Latitude 33: Key to the Kingdom.

www.lostcontinentlibrary.com
www.wonderoftheworlds.com
---
June 2nd, 2007
Robert Baird
World Mysteries
Robert Baird believes that history is a web of journalistic intrigue written to benefit those who have been in charge. They won the wars they generated through their NEEDS, and usurped the knowledge of sincere adepts, like Jesus and Buddha. There is no real new insight in this perspective but in this book you will start the process of seeing for yourself just how incredible the gamesmanship or forgery has been. Lactantius was the tutor for the house of Constantine who edited the Bible and designed much of what Christianity has become. This ancient sage was an early promoter of the Flat Earth and he noted there 'will always be those who will lie and forge for religion'.
It is his hope that you can assist the enlightenment that must occur once you see some of the forensic and archaeological information now available. Perhaps more importantly he hopes you will find roots to all religion which must develop tolerance and ecumenicism if we are to endure as a species on this planet hurtling ever faster through the unlimited creative and awesome universe we are blessed with.
He issure there are reasons why the great sage Lao Tzu went to see the Ancient Masters of the Tarim Basin where the Red-Heads developed most of the technology and other social systems that we are now finding spread around the world. His speculations that seek to integrate various facts of sciences are not the final answer and he looks forward to the reader assisting him in helping bring the 'Brotherhood' back to the forefront of life on Earth.
About five years ago - he decided he would not play ball in the material world anymore and then began to fight the system. For the past three years he have been writing about a book every six weeks. Most people can't imagine how much it means to create and give your every loving fiber in your soul.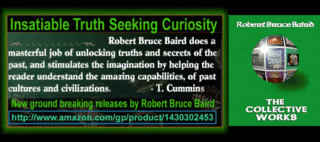 ---
May 26th, 2007
Jerome R. Corsi, Ph.D.
NAFTA Super Highway & North American Union
Possible Constitution Party Presidential Candidate
Jerome R. Corsi is a staff writer for WND. He received a Ph.D. from Harvard University in political science in 1972 and has written many books and articles, including co-authoring with John O'Neill the No. 1 New York Times best-seller, "Unfit for Command: Swift Boat Veterans Speak Out Against John Kerry." Corsi's most recent book was authored with Michael Evans: "Showdown with Nuclear Iran." Dr. Corsi's other recent books include "Black Gold Stranglehold: The Myth of Scarcity and the Politics of Oil," which he co-authored with WND columnist Craig. R. Smith, and "Atomic Iran."
---
May 19th, 2007
Texe Marrs - Codex Magica:
Secret Signs, Mysterious Symbols
and Hidden Codes of the Illuminati
Texe Marrs a well-known author of the #1 landmark national Christian bestseller, Dark Secrets of the New Age, has also written 35 other books for such major publishers as Simon & Schuster, John Wiley, Prentice Hall/Arco, Stein & Day, and Dow Jones-Irwin. His books have sold over two million copies.
Texe Marrs was assistant professor of aerospace studies, teaching American Defense Policy, strategic weapons systems, and related subjects at the University of Texas at Austin from 1977 to 1982. He has also taught international affairs, political science, and psychology for two other universities. A graduate Summa Cum Laude from Park College, Kansas City, Missouri, he earned his Master's degree at North Carolina State University.
As a career USAF officer (now retired), he commanded communications-electronics and engineering units. He holds a number of military decorations, including the Vietnam Service Medal, and served in Germany, Italy, and throughout Asia.
President of Power of Prophecy Ministries and RiverCrest Publishing in Austin, Texas, Texe Marrs is a frequent guest on radio and TV talk shows throughout the U.S.A. and Canada in response to the public's search for greater insight into Bible prophecy, secret societies, the New Age movement, and world affairs. His reference book, NewAge Cults and Religions, is the classic guide to New Age groups while his bestselling books, Circle of Intrigue, Project L. U. C.I.D., and Days of Hunger, Days of Chaos, explain world events and the drive by conspiratorial forces for a New World Order. Texe Marrs' monthly newsletter is distributed to tens of thousands of subscribers around the world. His radio program, Power of Prophecy, is beamed to over 125 nations around the globe.
---
May 12th, 2007
Dr. Robert Duncan
Energy Weapons & Testing
Dr. Robert Duncan
holds multiple degrees from Harvard University and Dartmouth College amongst others. He has had the most expensive American education money can buy. He is an investigator, author, and soon be movie producer on the topics of directed energy, neurological weapons, psychological, and information warfare. His movie is called "The Enemy Within - Psychic Warfare". A book he is co-authoring will be out in a few months called "Hacking the Human Mind"

.

As a independent investigator Robert Duncan will discuss directed energy and neurological weapons and his contention that they've been tested on the public at large. While directed energy is used in microwaves, to remove kidney stones, and in non-invasive surgery, it's also been developed extensively for military purposes, he reports.

The civilian population was targeted for experiments, in programs such as MK-ULTRA, starting after WW II, when Nazi scientists were imported to the US, some working on scalar or gravity weapons, said Duncan. The town of Taos, NM, where a hum was heard by many citizens, was the subject of a directed energy experiment by the U.S. Navy, he claimed. And most recently the Active Denial System (see article below) was tested on human subjects.

Duncan says he interviewed over 600 mind control victims, and found some validity to their allegations. There are weapons that can project voices into people's heads such as one system known as "The Voice of God," he detailed. Blocking techniques include jamming the signals with electronic scramblers, and using shields with metal alloys or mylar. He recommends the following websites for further information/assistance: mindjustice.org, raven1.net, freedomfchs.com.